I'm very excited to bring you my first blog post on Thank Book It's Friday on one of my favourite authors. Given that I only discovered Liane Moriarty late last year, it does seem a little presumptuous for her to already be considered a favourite of mine. But, given the both the quality of her work and just how much I've enjoyed all of her books and flown through her entire (adult) back catalogue in such a short space of time, I think it's more than fair. As I will explain, I find that her novels perfectly balance the intrigue and darkness of crime thriller fiction and readability and lightness of "chick lit".
First, a little bit about Liane Moriarty. She's an Australian author, from Sydney, and is the sister to fellow author Jaclyn Moriarty (most famous for her incredible young adult trilogy, The Colours of Madeleine, which had its most recent release earlier this year, A Tangle of Gold). She was born in 1966, which makes the fact that she has been so successful with her writing even more astonishing given her young age. Prior to releasing her first novel, she was working as a freelance advertising copywriter. Following her obtaining of a Masters' degree from Macquarie University in 2004, she published her first novel, Three Wishes (as part of the degree – remarkable!).
Her popularity in recent years has skyrocketed, largely thanks to the one and only Reese Witherspoon. A voracious reader herself, she has shared how much she enjoyed some of her books with her enormous Instagram following, as well as her production company, Pacific Standard, acquiring the film and television rights to Big Little Lies. And it's also thanks to Ms Witherspoon that it gives sorry dorks like myself the opportunity to fangirl hopelessly over photos like this one. In addition to all of this, she has also published three children's books. A commercial and critical success, her works have been flying off the shelves consistently and it's all credit to her.
For some reason, I somehow managed to read her six novels in reverse chronological order – this was unintentional to begin with, but I actually found it to be quite a good way to read them. It's always interesting to see how a writer's technique, style and even plots develop through their course of publication, and it was even more interesting to see this play out in reverse order. However, for the purposes of this piece, I'll be looking at her pieces in publication order.
Three Wishes (2004)
I've mentioned a bit about this book already – whilst researching Moriarty both for this piece and just for a bit of background information, I learned about the fact that this novel was written as part of a Masters' degree. Having written a thesis a few years ago, I am well aware of just how much effort would have gone into a piece like this. It's astounding that the quality and readability was a product of a degree – lots of university degree pieces lack the engaging nature of a book like this one. They are usually intended to be studied and are, thus, sometimes more challenging in nature.
On the contrary though, Three Wishes is charming, witty and compelling reading. Of all of Moriarty's novels, it is definitely the most "chick lit". It's an easy read, but that doesn't make it any less of a page-turner. It tells the story of the Kettle triplets, Gemma, Cat and Lynn. The book's opening chapter sees the sisters having a shared birthday dinner to celebrate their thirty fourth birthday. As is so distinctive of Moriarty's developing style, it shares the narration across multiple characters as they describe the dinner. It starts with a jovial and celebratory dinner, with contributions from diners at other tables in the restaurant, the waitress and other onlookers describing the scene where the wine is flowing and the laughter is loud and boisterous. However, this merry occasion soon sours – the sisters begin to fight. "One girl scraped back her chair and stood right up…she was shaking a fork and screaming… 'You have both…FUCKING RUINED MY LIFE!" The evening ends in disaster, with yelling, swearing, and even a trip to the emergency room which involves the pregnant triplet. Herein lies the mystery of the book.
From here, the book starts close to a year earlier. From here, we learn more and more about each of the sisters, and we are left to guess the vital details. Who started the stoush? Who is the pregnant triplet? What was the tipping point? All of these questions are masterfully played out throughout the book, as well as the development of the triplets – the seemingly free-spirited Gemma, who may have more secrets than the others know; the picture perfect Lynn, who has seems to have the perfect balance of career and family; and her identical twin, Cat, who is still reeling from "the night of the Spaghetti" which has seen her life turned around in ways she would have never expected. In addition, we meet a great cast of characters, which, again, we will find so typically characterise Moriarty's novels.
This book was simultaneously hilarious and heart-breaking. As well as exploring the torrid relationship between the sisters, this book also deals with some topical and sensitive issues. It is from here that the fans of such authors as Jodi Picoult and Jojo Moyes will find love in a Moriarty novel. Three Wishes faces issues of infidelity, miscarriages and domestic violence head-on in a visceral and captivating manner. This makes this novel so different from any other typical chick-lit novels. And it is for this reason that I find Liane Moriarty's novels so incredible and why I recommend them to so many – including any of you to be reading this right now!
The Last Anniversary (2006)
Moriarty's second book introduces the darker elements of her latter novels. The foundation of The Last Anniversary is an unsolved mystery which took place seventy years prior to the events of the novel. In 1932, Connie and her sister Rose were visiting their neighbours and discovered a baby, completely unattended with no sign of her parents. They then took the baby, whom they dubbed Enigma, and raised her themselves. The mystery of Enigma, the "Munro Baby Mystery" is yet to have been solved, and the house where she was discovered remains untouched.
The lush, evocative setting of Scribbly Gum Island plays a major role in the unravelling of this story. The sisters have developed the island into a tourist retreat based around the Munro Baby Mystery, which has become a flourishing family business. However, the opening of the novel sees Connie pass away, which throws rather a cat among the pigeons.
Meanwhile, Sophie Honeywell is fast approaching her fortieth birthday and is wondering if she will ever find true love – a chick lit staple if ever there was one. But, there's a twist – her ex, Thomas Gordon, happens to be the grandson of Enigma and is implicated in the estate. Sophie is startled to learn that she has been the beneficiary of the Connie's will and is set to inherit Connie's island property.
Again, the many threads of this novel weave masterfully to a dramatic conclusion on the evening of the "last anniversary" – the seventieth anniversary of the Munro Baby Mystery. This seems to be a motif of Moriarty's work, and it works so well for her. The reader is gripped by multiple characters' thoughts, emotions and loyalties that it's impossible not to want to know how all of their problems are resolved, if at all. It truly is remarkable how she manages to create such rich plots and depth of character for such a large cast of characters, all of whom are intertwined in subtle ways.
The Last Anniversary is another example of how the dark and light blend together to create an intriguing story of history, romance and family. As remarkable an achievement as this novel is, it merely lays the foundation for what is to come in Moriarty's back catalogue of novels.
What Alice Forgot (2010)
Not to be confused with Lisa Genova's astounding novel Still Alice, What Alice Forgot is, ironically enough, centred around a woman named Alice and her struggle to remember. Where Genova's novel takes us to the dark and misunderstood places of Alzheimer's Disease, Moriarty's book instead introduces us to Alice Love, a woman who is not what she seems – both to herself and to the people around her!
Alice is twenty-nine, in love with her husband Nick, expecting her first child and renovating a home they have purchased together. So we can imagine her shock when we as reader discover along with Alice that she is in fact thirty-nine, mother of three, in the middle of a divorce, dating the principal of the children's school and living in a luxe and wholly finished mansion!
Many other texts have dealt with this concept – it has been the plotline subject of melodramatic soap operas, romantic comedy films and even other books – but I think what makes this one wholly different is just how reflexive it is upon not only the self (in this case, a much older and more battle-weary than she realises Alice) but also upon the people around her.
Many small things have changed to Alice which she finds staggering. The fact that the loss of her memory was induced by a nasty fall at the gym (when she studiously avoided exercise in her previous life). The manner in which she has managed to take charge of her life as a parent, being head of committees aplenty and the driving force behind many organised activities. The attention to detail she pays to her own appearance – she is amazed to find how she manages to apply flawless makeup and wear beautiful clothes by mere body memory rather than having to actively think about anything that she's doing. This happens several times throughout the back, and always manages to startle her – it's as if the voice and body that are doing the things that "new Alice" is so accustomed to is another person with whom she has to become acquainted.
Not only this, but it seems that the pressure of time has damaged key relationships in her life. Obviously, her marriage has soured, but her children do not see her as the mother that she had so longed to be ten years prior. Her relationship with her sister is damaged. And, she has absolutely no recollection of the woman whom she supposedly shared some of her fondest and dearest, but also her most trying and devastating times – Gina. But, who exactly is Gina?
I'll have to admit, I did enjoy What Alice Forgot the least of Moriarty's novels; but that's certainly not to go so far as to say that I disliked it. I just found that it lacked a lot of the intrigue and darkness that her other novels possess so richly, to give it just that little bit of extra readability beyond a simple page-turner about a whimsical set of circumstances that seem entirely implausible. But, it does offer us an interesting reflection upon ourselves – if we met our current self ten years ago, would we be shocked? Disappointed? Just what would we do differently if we knew where we went wrong? These are important conversations to have, which really does make this one an ideal choice for book clubs or discussion groups.
The Hypnotist's Love Story (2011)
(Credit Instagram user @bettylebonbon)
An intriguing story line which bears even more relevance as the years go on. On the surface, the plotline sees our thirty-something protagonist, Ellen, a qualified hypnotherapist, finds herself falling in love with Patrick. She is mildly horrified when Patricks suggests that they have a "talk" when they are out for dinner; however, this talk is unlike any other that she has had before. Patrick reveals that he has a stalker, but not just any regulation stalker – his ex-girlfriend, Saskia.
Rather than being horrified, scared or confused, Ellen is instead intrigued by Saskia. What has possessed this woman to maintain such a fierce interest in Patrick's life? Why can she not let go? What caused her to become the way that she has become?
In an interesting relationship dynamic, Ellen is the one who is somewhat relentless in her pursuit of Saskia. Patrick seems to simply close over when her name is mentioned and refuses to talk about his relationship with her. But Ellen is rather interested in Saskia and even decides that she'd like to meet and talk with the woman. What she doesn't know, though, is that they have already met.
The relationship between the conventional and the unusual is the most interesting interplay in this novel of Moriarty's. The fact that Ellen is rather determined to know more about Saskia inverts the relationship between the stalker and the stalked. I find that this is of increasing significance even since this book was written in the age of social media. How often do we joke amongst ourselves that we "stalk" our followers, who we follow, who we want to follow? And just when does it stop being a joke and start becoming a serious invasion of privacy? This really struck a chord with me, particularly because of the way that Moriarty has written portions of the novel from Saskia's point of view. She is not portrayed as a delusional or psychotic woman; instead, she is instantly recognisable in just about all of us. At times, it is Ellen who tends towards the previous qualities as she becomes more and more obsessed with Saskia's pursuit. Saskia is instead portrayed as lonely, confused and simply heartbroken from a relationship that ended, to her, prematurely.
Once again, there is more to this novel than just what I've already mentioned. There's ethical issues aplenty, particularly the relationship between therapist and patient. Issues of bereavement, inheritance and a young family trying to rebuild their lives after tragedy. An enjoyable and thought- provoking novel.
The Husband's Secret (2013)
(Credit Instagram user @my.book.diary)
This is the book which saw Moriarty's books go from critical acclaim to commercial success. Just about everyone was talking about this book when it was released, and they're still talking about it to this day. A number one New York Times bestseller and consistently voted in the top books of 2013, The Husband's Secret was enjoyed by book clubs, book critics, and beach readers alike. Still considered to be Moriarty's best, it is the perfect example of what USA Today have called "like drinking a pink cosmo laced with arsenic."
The first thing that is important to note about The Husband's Secret is that it is not just one story. It is multiple stories that weave together beautifully through differing narrators and perspectives upon events that have happened in the past and how they continue to haunt their presents. Primarily, though, it is about Cecilia Fitzpatrick, Tupperware consultant and mother of three girls, seemingly master of the perfect lifestyle. However, this is all seemingly disrupted when she discovers a letter, addressed to her, from her husband, John-Paul: "For my wife…to be opened only in the event of my death." But John-Paul is not dead. He is away on business. But the curiosity is just too much for Cecilia. What is inside this letter? And why is John-Paul lying about this letter?
It is also about Tess, who discovers that her husband, Will, has fallen in love with her sister, Felicity. About Rachel, who lost her teenage daughter Janie so many years ago but the grief of it still haunts her life to this day. About enigmatic Connor, who has nearly given up on his life. And just how do all of these lives connect? And what on earth is the significance of the fall of the Berlin Wall, a recurring image throughout the text?
This book is a page-turner if ever there was one. The hand of the author is perhaps the most evident in The Husband's Secret, in that there is a consequence for every single one of the characters' actions, and Moriarty ensures that. I think that the key themes to come from this book are the relationship between the past and the present, the relationship between truth and accusation and the colouring of family relationships. You don't have to wait long for a massive plot twist to occur in this book (it's under 100 pages in that it goes down), but it is relentless from there on in. Even the very last addition to the book is heart wrenching – it's an emotionally investing read but 100% worth every bit of this investment.
Big Little Lies (2014)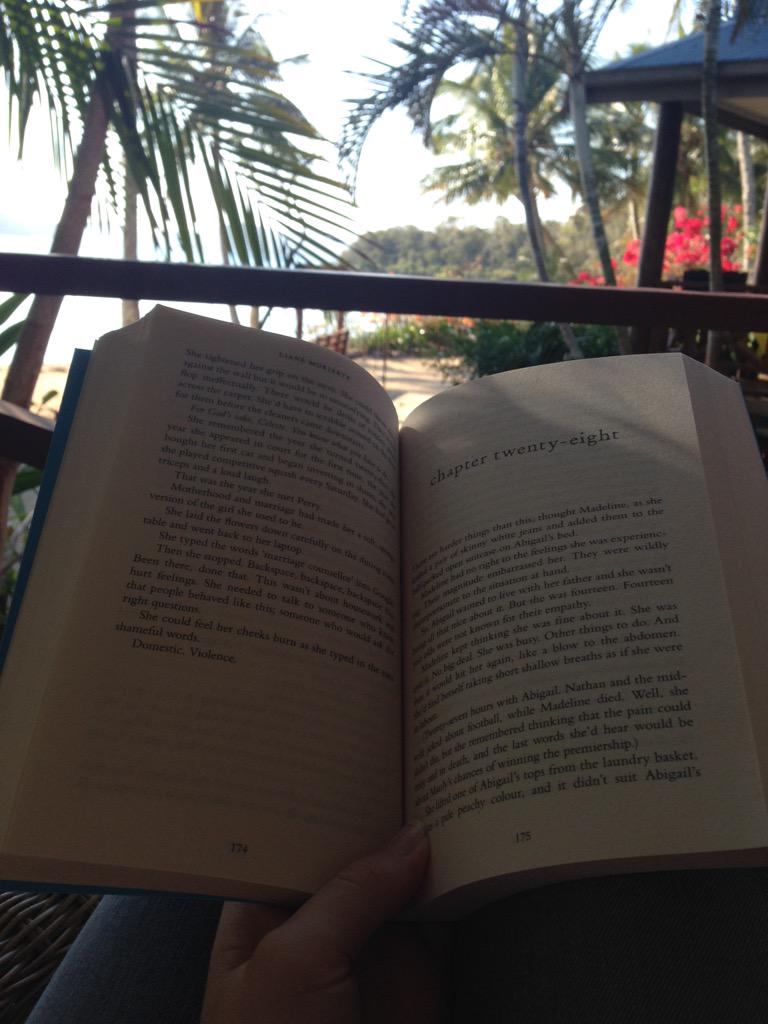 LIES, SCANDAL, MURDER…IN THE PLAYGROUND.
This was the first of Moriarty's books that I read. And obviously, from here, I was hooked. I bought it for a bit of holiday reading, not really knowing too much about the author, book or plot line other than what my customers had told me at work and that her books had been selling consistently well for a very long time. And I am so thankful that I did decide to pick up this one!
As you may or may not have realised, the vast majority of Moriarty's protagonists are women in their thirties, primarily Australian women with young children. It seems that she has taken this trope and exaggerated it in Big Little Lies, in that it tells the tale of many different primary school parents and the fate of a doomed school trivia night. In a similar fashion to her first book, Three Wishes, the story is told after the main event has actually happened – we know that something disastrous has happened at the trivia night, but we don't know the crucial details.
The main characters in Big Little Lies are so intimately familiar, I felt like I had met all of them in my travels before coming to this book. There's the cheerful, but simultaneously no-frills, mother of two, Madeline. There's the single mother, Jane, who struggles with displacement and fears that she is passing the same fear on to her son, Ziggy. There's Madeline's friend, Celeste, mother of twin boys, who is seemingly aloof and cold. And then there's Bonnie, Madeline's ex-husband's new wife and seemingly "new mother" to her eldest daughter.
There's tensions aplenty between all of the parents and even the children before this trivia night. There's accusations of bullying, which sets off two distinct groups of parents and plays them against each other. Not to mention the day-to-day family issues and competitiveness that are becoming all too familiar on the school playground (I'm talking about both children and their parents!)
This is a topical novel for many reasons. It is not a good thing that these characters are so recognisable. In particular, the relationship between Celeste and her husband, Perry, and all of the many off-shoots of this relationship. It just goes to show just how incredibly damaging domestic violence is and it is, without doubt, a national and international crisis which deserves all of the attention and condemnation that we can possibly give it.
I think that the television adaptation, set to star Reese Witherspoon, Nicole Kidman and Shailene Woodley, will be a brilliant one. I am keenly watching this space!
Truly Madly Guilty (2016)
I am so keen for this!
Sources:
Liane Moriarty – Wikipedia
Liane Moriarty – official website
Review of "The Husband's Secret"
Reese Witherspoon – Wikipedia
Dymocks online